Smooth Move 1150
SmoothMove1150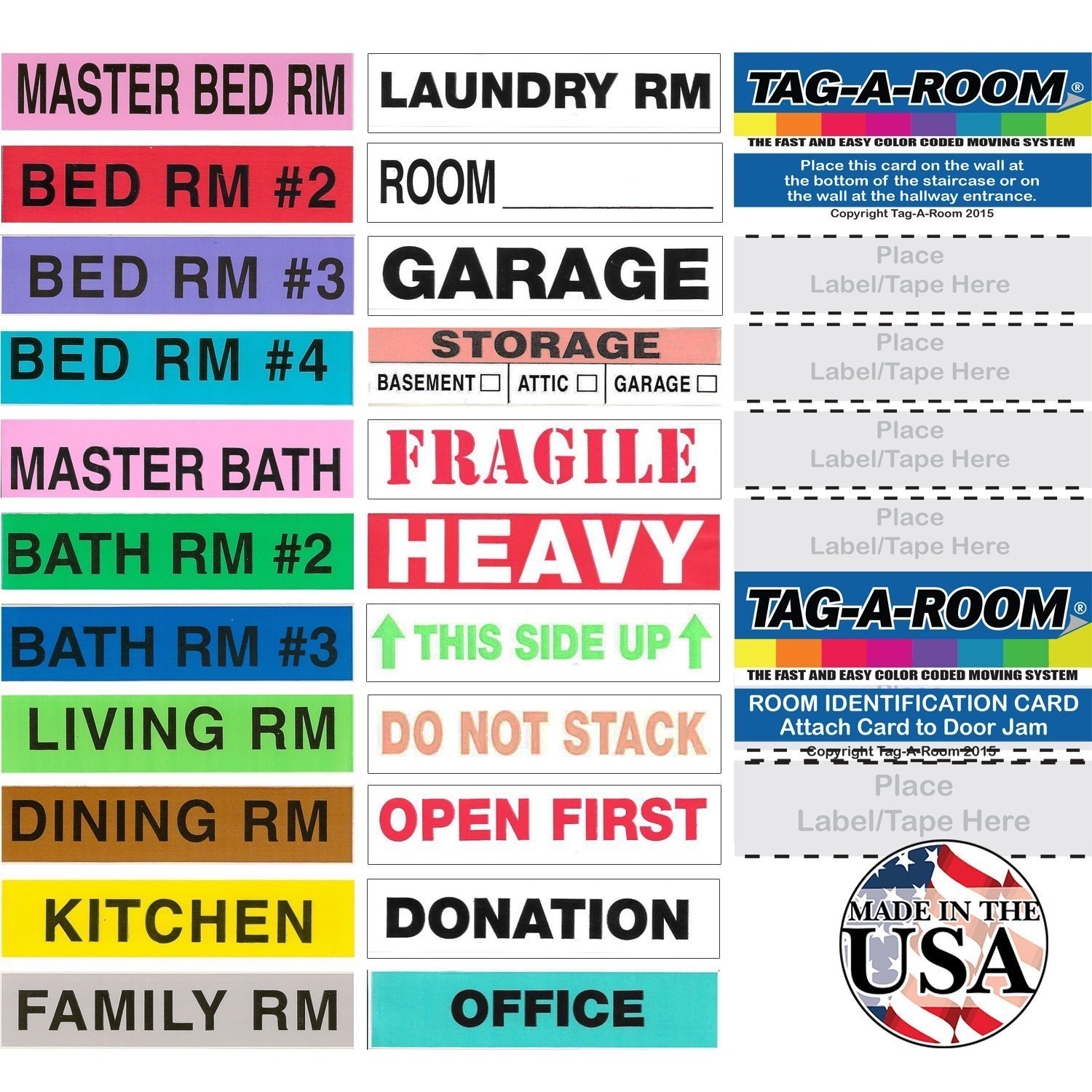 Smooth Move 1150, Moving Labels.
Tag-A-Room Color Coded Home Moving Box Labels with Door IDs, 1150 Count Moving Stickers, Moving Supplies

Moving day is just around the corner you double check, no triple check your moving supplies. You count your moving boxes to ensure you have plenty for the move, 30 small boxes, 30 medium boxes, 15 large boxes, 5 x-large boxes, and 3 dish packs. You have 2 cases of packing tape with 2 easy side-load tape gun dispensers. You bought 20 pounds of newsprint packing paper for wrapping knick-knacks, cushion foam and 2 rolls of bubble wrap to protect the china and various other fragile items in the move. You look down at the last item and it suddenly brings back memories of how disorganized it was last time you moved. Boxes were everywhere you felt you were moving boxes around for days. Not this time though. You knew there was a better way to organize your move and there was, Tag-A-Room. The original pre-printed moving labels made by movers for movers, and serving the organized moving community for over 20 years. These pre-printed color coded moving stickers come in 14 different colors, they measure approximately 1 inch by 4 inches, and have a permanent adhesive to stick to your corrugated moving boxes. A sense of relief overwhelms you as you know the stress of moving is no longer a part of your organized life. These labels are NOT recommended to be placed on furniture.
Save Time – Less Stress – Make sure your friends and movers know which room to place your boxes in.

Organize Your Move – Place Boxes Quickly – These clear bold printed color coded labels that the guess work out of messy markers

You Spoke - We Listened. We DOUBLED the Labels you need Master Bedroom, Kitchen, Fragile; We ADDED the labels you wanted Garage, Laundry RM, Office, and Heavy,

Smooth Move 1150 Labeling System includes 100 each Master Bedroom, Kitchen, Fragile; 50 each of Bedroom 2, Bedroom 3, Bedroom 4, Master Bath, Bath 2, Bath3, Living, Dining, Family, Office, Laundry, Room Blank, Garage, Storage, Heavy; 25 each This Side Up, Do Not Stack, Open First, Donations. Legend Sheet and 6 Door ID's

MADE IN THE USA