Tag-A-Room Display Kit
13010010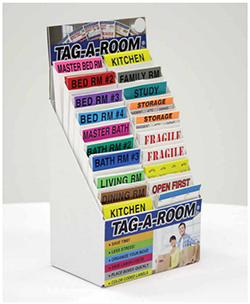 THE TAG-A-ROOM® DISPLAY KIT IS PERFECT FOR STORAGE AND MOVING COMPANIES OFFERING PRODUCTS TO HELP THEIR CLIENTS MOVE MORE EASILY.
WHAT IS TAG-A-ROOM®?
THE TAG-A-ROOM® PRODUCT LINE REDUCES THE STRESS AND CONFUSION ASSOCIATED WITH THE EXPERIENCE OF MOVING YOUR OFFICE OR HOME, BY ORGANIZING YOUR MOVE USING COLOR CODED LABELS.
1. PLACE TAG-A-ROOM® LABELS ON YOUR BOXES.
2. EASILY RECOGNIZE THE ROOM THE BOX NEEDS TO BE PLACED IN.
THE DISPLAY KIT INCLUDES 500 SINGLE SHEETS OF TAG-A-ROOM® COLOR CODED MOVING LABELS. (2500 TOTAL LABELS)
YOUR COST ONLY: $59.00
TOTAL RETURN ON INVESTMENT:
$125.00 MINIMUM

SOLD AS INDIVIDUAL SHEETS OF LABELS
SUGGESTED RETAIL PRICE: 4 FOR $1.00 (20 TOTAL LABELS)